An Introduction To LG Inform Plus
Back to top
Objective
The objective of this guide is to provide an introduction to the ways in which to navigate the LG Inform Plus service. Note, LG Inform Plus is partly a subscription service. Full access to all areas is not available to the casual user. For more details contact us at: lginformplus@local.gov.uk
Back to top
Landing page
To help you access what's available in the LG Inform Plus package, we have improved the overall site navigation by introducing a new landing page which links through to new themed pages (Hubs) for each key business areas. Access to the six Hubs highlighted below:
Data and reports
Your data and metrics
Governance and compliance
Open data
Developers and data analysts
Standards
Each grouping has a brief description and the 'titles' are links directly to the Hub pages: where the modules and tools now reside.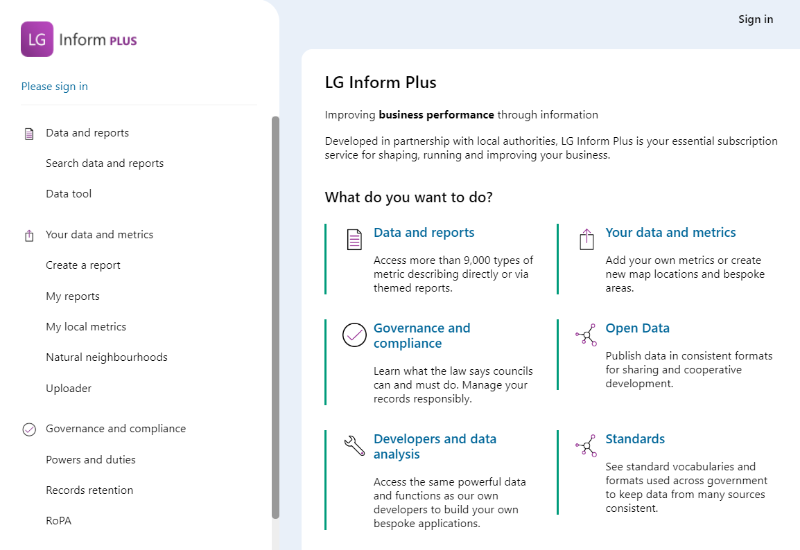 Navigation to main services and modules can also be achieved via the navigation on the left-hand side of the landing page.
Also, seen at the top of the page, you can Sign-in, Register or access other services such as our File exchange, the Newsroom, basic information including current subscription rates via the 'About' link. The 'Help' site and other 'Associated' websites' such as LG Inform, LG Inform Value for Money, TiEx, the Knowledge Hub and the LGA main website.
There is also a new 'Chat' function available: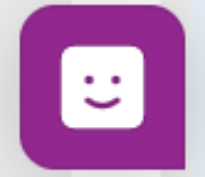 On the right-hand side of the landing page (or part way down the page on mobile or tablet) we have a 'News' and 'Alerts' feature: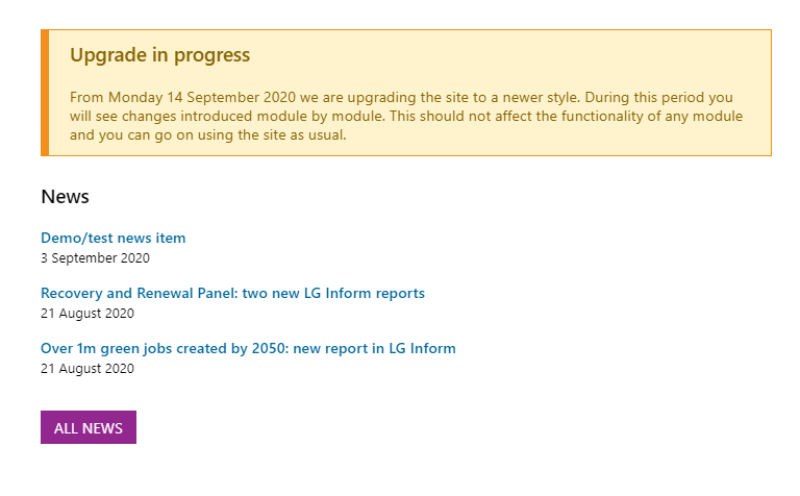 By scrolling down the page, you can see links to our pre-defined reports and other popular resources such as 'Area types' and 'Popular Standards lists':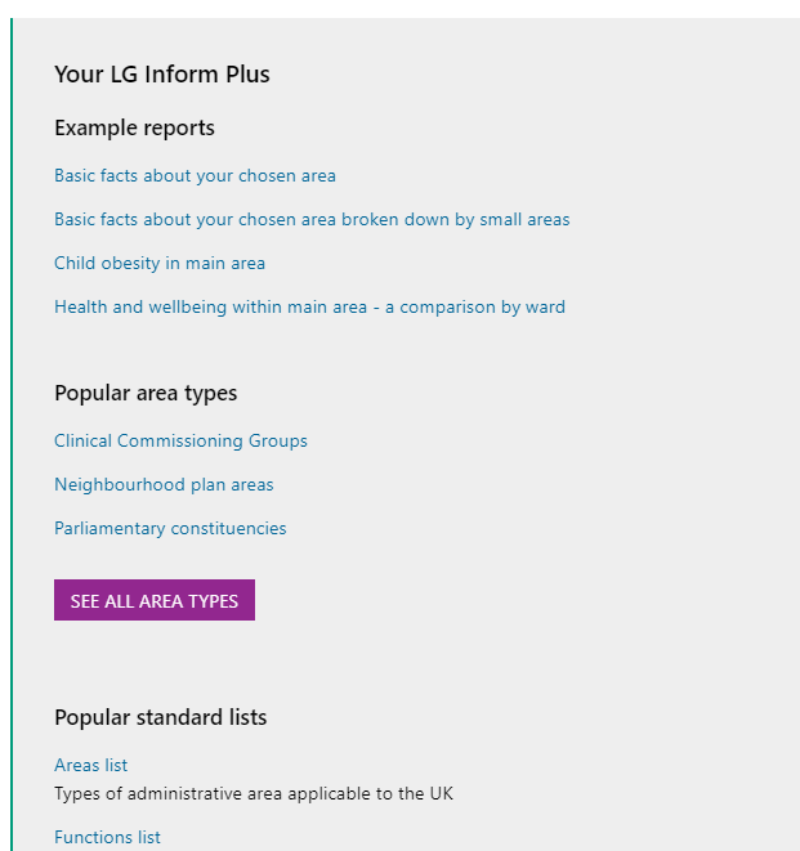 At the bottom of the page you can 'Register' or 'Sign-in' to access the subscription aspects of the service.

Back to top
The hub pages
The hub pages summarise the services offered by LG Inform Plus in each business area. Once you are familiar with the tools you need, you can go straight to them via the links under each one. You no longer need to go via an introduction page. The six hub pages are outlined briefly below:
1. Data and reports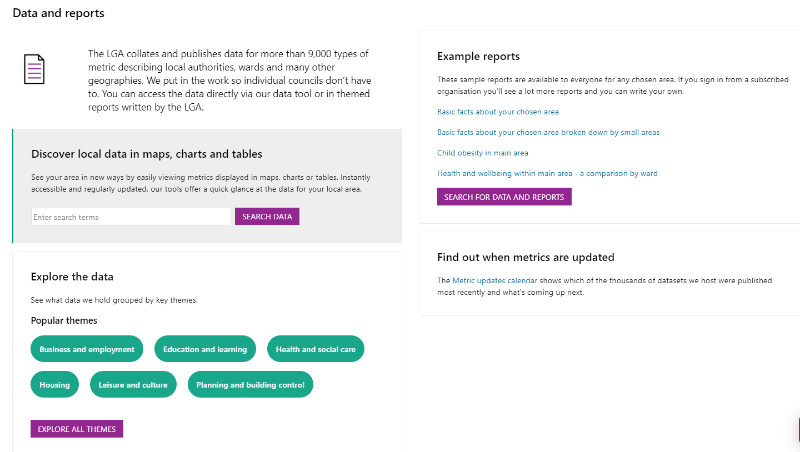 You can search for individual items or use the new 'Explorer' to 'explore the data' and generate search results on specific themes. Links to our pre-defined reports can be seen on the right-hand side. When signed in you will see these plus listings of their own reports and reports created by the LGA.
Finally, on this page you can go to the 'Data tool' and generate specific data queries for export or embedded links.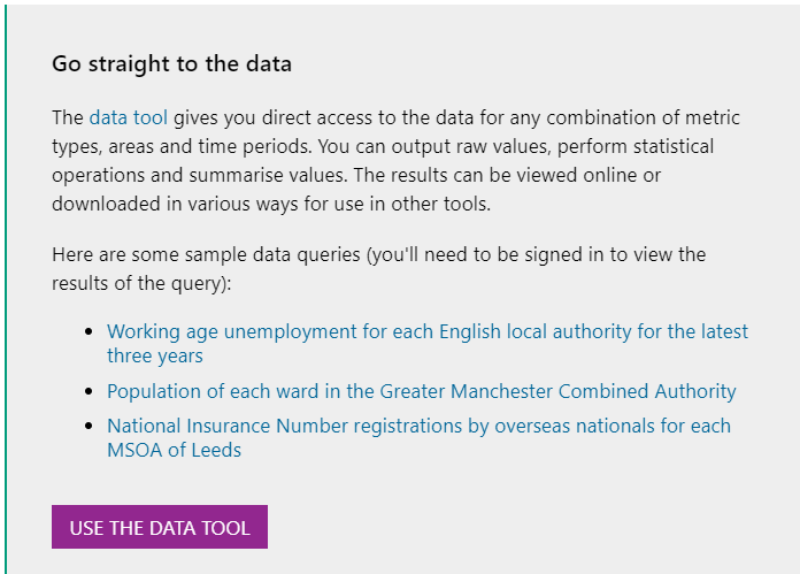 2. Your data and metrics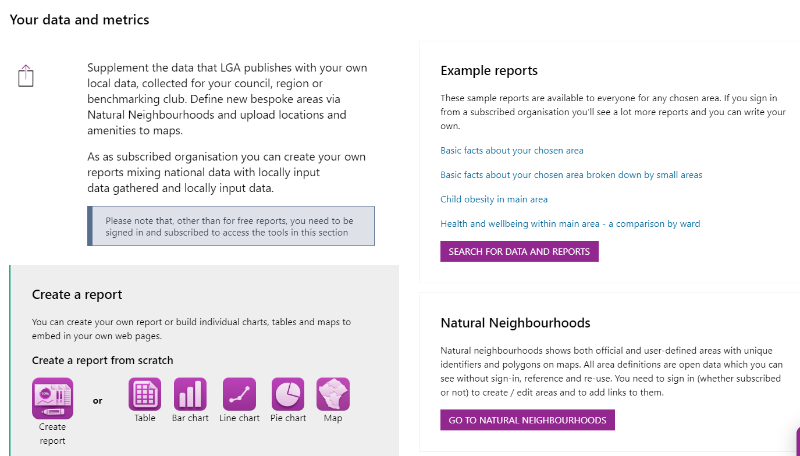 This Hub page not only lets you see existing reports but allows them to create their own unique resources via:
Create a report: create your own information using all of the 12,000 'public' metrics within the database;
Natural Neighbourhoods: create new maps to view data at local authority, Ward, MSOA or LSOA level.
My Local Metrics: add your own 'local' data for use directly or together with the existing publicly available metrics we store and update.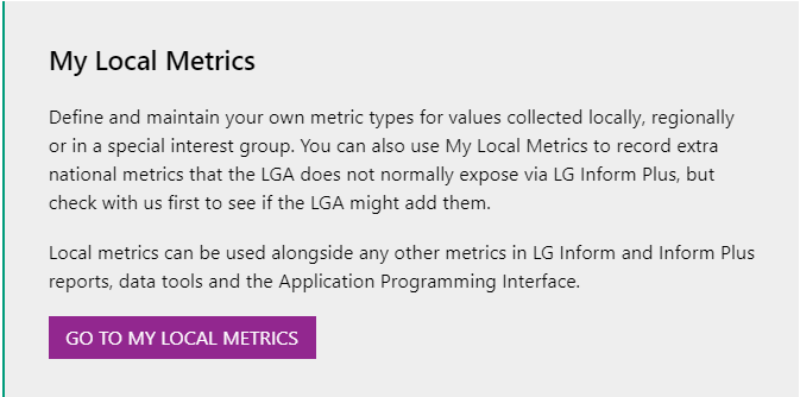 3. Governance and compliance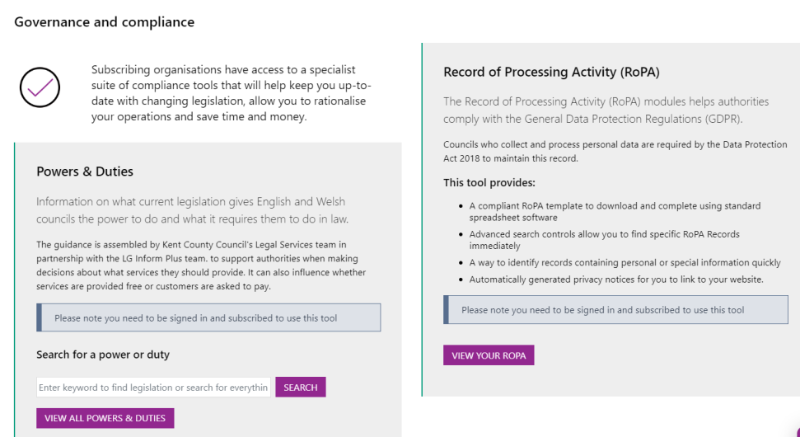 The Governance and compliance Hub page enables Information managers and Compliance officers access key information that supports their services. For example: access to information:
to understand the Primary Legislation that underpins English and Welsh local authorities (including Fire and Rescue services).
to create a 'Record of Processing Activity' which supports GDPR compliance
to apply a series of Record retention schedules which outline how long records should be kept and which ones contain 'Personal' or Special' information'.
Note: this is guidance and we advise information managers to check first with their legal teams when applying it to local circumstance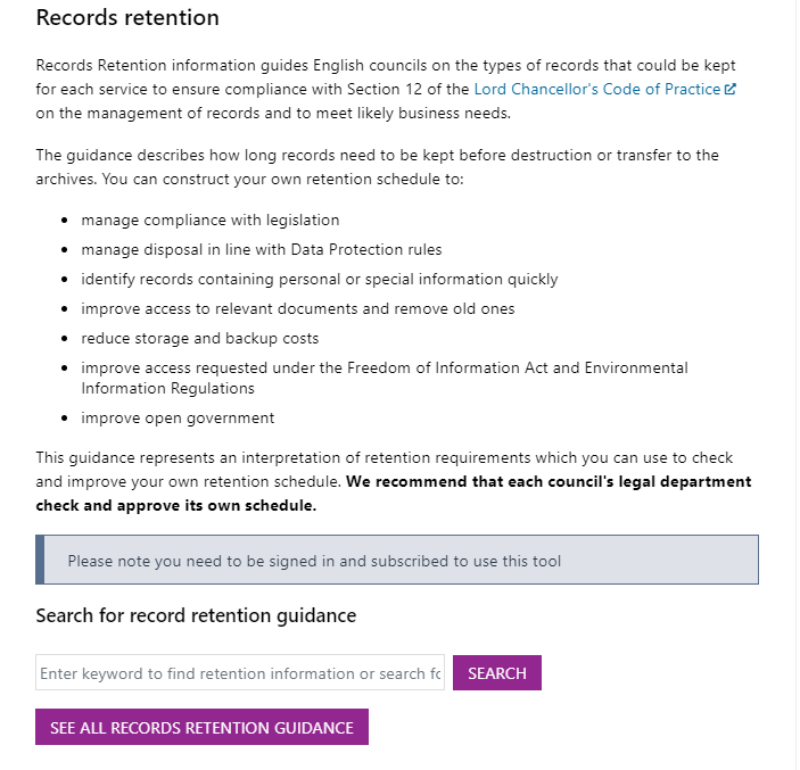 4. Open data and standards
These two are grouped together and shown on a single Hub page as below: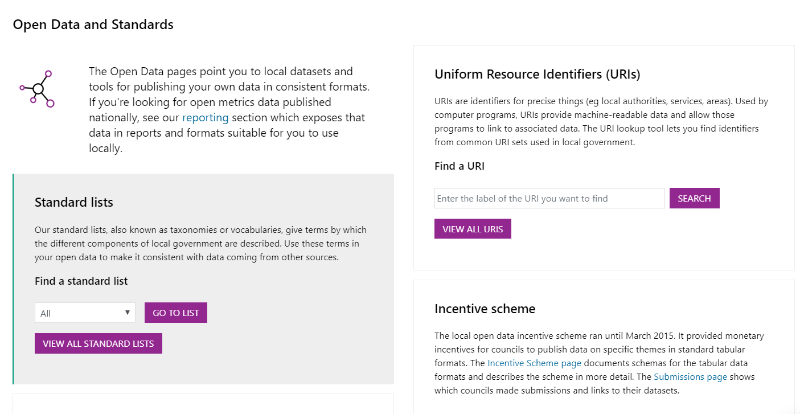 All these resources are freely available for inspection and use without the need for a subscription to LG Inform Plus. They include:
Standards - these are a range of lists of definitions covering key aspects of how local government operate and include items as local government services and functions. Also included are lists of 'Areas' and 'Metrics' which are used in LG Inform, LG inform Value for Money and the LG inform Plus applications.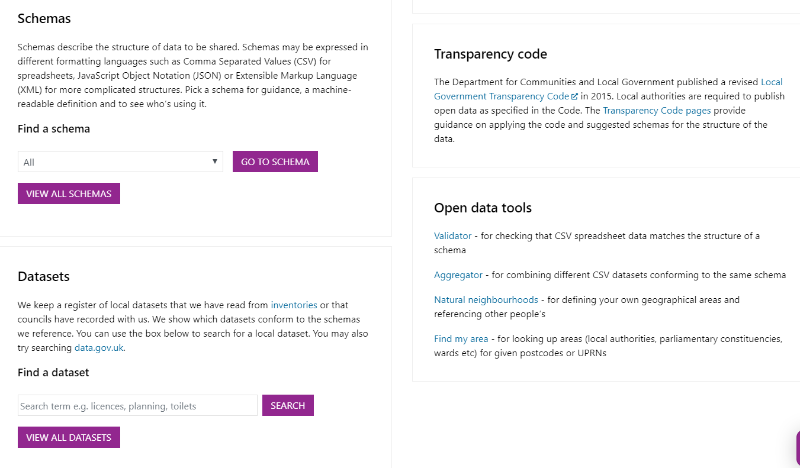 The Transparency code governs the way local authorities publicise data.
5. Developers and data analysts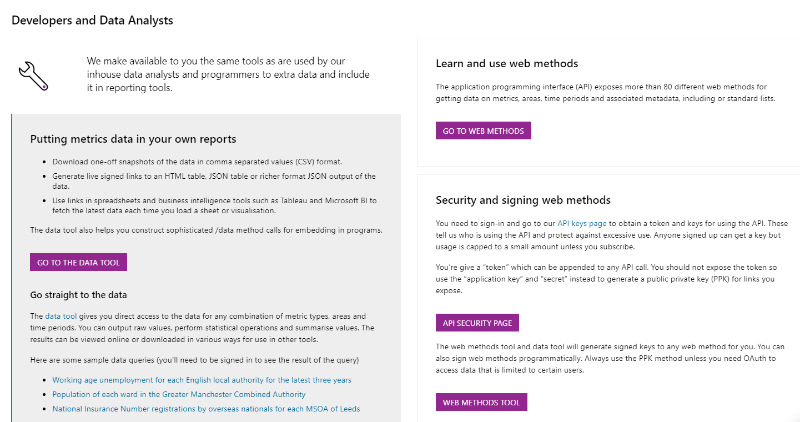 This Hub page highlights our set of tools to help software developers build local applications (including web sites) using the data held within the database.
For example: The web methods tool will help you 'call data' from the API using web methods and sign those calls with your keys.
The Data tool, requires you to either subscribe or purchase a 'key' giving them a monthly 'data allowance'. Using this they can draw, in 'real-time', data from the LG Inform Plus database.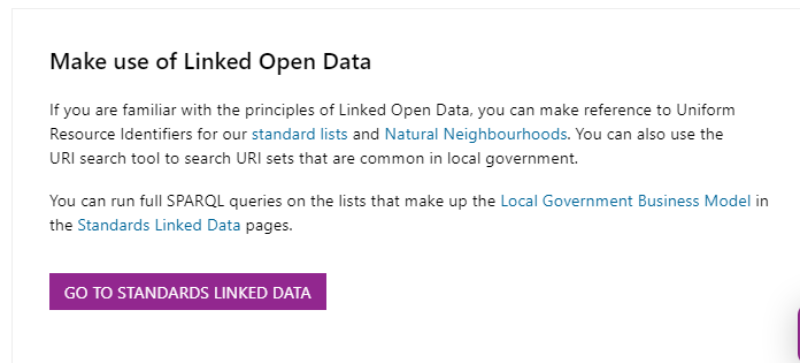 Back to top
Need more help?
We hope you found this introduction to LG Inform Plus useful, but if you have any further questions or would like to learn more, please get in touch.

Use the Help link in the navigation bar anywhere in LG Inform Plus to read through our online help guides, or send an email to support@esd.org.uk and the support team will get back to you (Monday – Friday, 9 a.m. to 5.30 p.m.).
Additionally, we have developed a series of helpful guides which provide detailed explanations of how the services and modules within LG Inform Plus work. These guides can be found here.
Back to top