Download the template RoPA
Follow these instructions to get a RoPA that has generic record type information pre-populated but empty fields for information that is specific to your council.
1. Go to Records Retention
Go to the front page of LG Inform Plus (http://esd.org.uk/) and click on the Records retention icon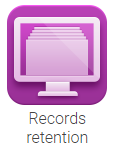 or got directly to the Records Retention tool at http://retention.esd.org.uk/. 
2. Select retention guidance and sign in
Select the "retention guidance" option on the left and sign in. If you have not previously registered, use the "Register" option first to register with your email address at your council. 
Your council needs to be subscribed with the LGA to use this tool. If you don't have access after sign in, contact lginform@local.gov.uk or the Support team at support@esd.org.uk.
3. Select business function and download template RoPA
Following sign in you will see the retention guidance listed. There are options to filter this for types of record and organisation type (eg County, District, Unitary, Fire authority).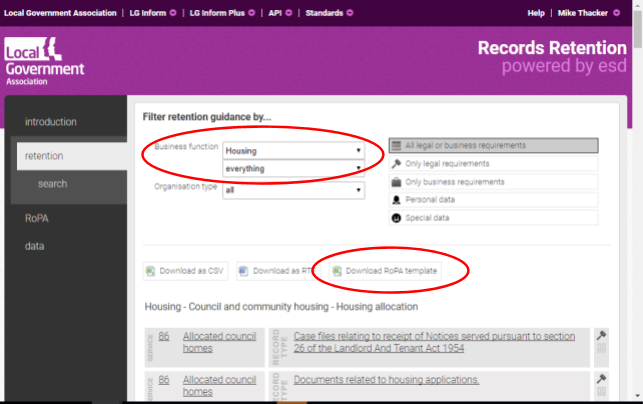 Against "Business function", pick the functional area for which you want record types, or leave it at "everything" for the full RoPA. Note that you can pick a sub-function as well for a very specific functional area if you wish.
Next click on the "Download RoPA template" button. After a few moments, a file named "RoPA.csv" will be downloaded to your computer. This is a comma separated values file that can be opened by a spreadsheet tool such as Microsoft Excel.
If you are maintaining your own RoPA offline, you can use this CSV file to input to your RoPA. If you are using LG Inform Plus to maintain your RoPA, progress to the next section of this guide.